You can call the Employee Assistance Programme in complete confidence 24 hours a day, 365 days a year with as many different issues as you need support for.
Each website provides useful information and resources which are worth taking a look at.
Service covers three areas of well-being…​​​​​​​​​​​​​​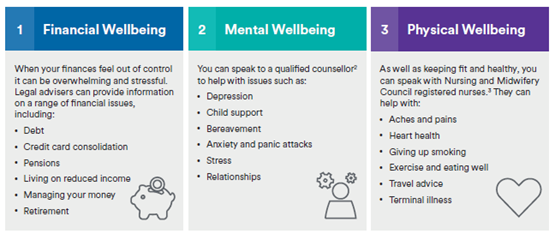 Who is eligible?  Members of an employee's family in their household (spouse or partner and any brother, sister, parent, legal dependants (except children under the age of 16) who are living in the same household as you; and any children or legal dependants who do not live in your household, but are aged 16 to 21, living in the UK and in full-time education.
Bereavement & Probate Support – (only available for Semco employees through MetLife).  Helping with the emotional aspect of grieving, practical probate support (dealing with finances after a death, helping to manage the deceased death). The employee and one family member are eligible for up to 6 face-to-face counselling sessions a year.